Listing results of Local Business and Services.

filter
520 Results in category Food & Beverages
Tavolo is an authentic Italian restaurant in a stylish, warm environment with great pizza, pasta and wines. Located in the newly renamed and renovated South Oakville Centre (you knew it as Hopedale
Mall)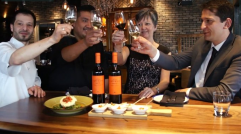 1515 Rebecca Street
Oakville, Ontario L6L 1Z7
Canada
Seasons Restaurant Owners George and Tammy, along with Executive Chef Peter have established a focal point on Oakville's prestigious "restaurant row". Come dine with us & experience one of Oakville's most recognized dining spot.



134 Lakeshore Road East
Oakville, Ontario L6J 2Z4
Canada
481 Cornwall Road
Oakville, Ontario L6J 7S8
Canada
115 Maurice Dr
Oakville, Ontario L6K 2W6
Canada
115A Maurice Dr
Oakville, Ontario L6K 2W6
Canada
216 Lakeshore Rd E
Oakville, Ontario L6J 1H8
Canada
2267 Lakeshore Rd W
Oakville, Ontario L6L 1H1
Canada
369 Speers Rd
Oakville, Ontario L6K 3T2
Canada
240 Leighland Avenue
Oakville, Ontario L6H 3H6
Canada
2345 Trafalgar Rd
Oakville, Ontario L6H 6N9
Canada